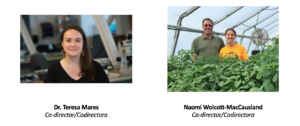 Our 2020 Team
More about Huertas co-directors, Naomi Wolcott-MacCausland and Dr. Teresa Mares:
     Naomi Wolcott-MacCausland is the current Migrant Health Coordinator for Bridges to Health at UVM Extension, a program that increases health care access for migrant farmworkers in Vermont by offering enabling services while simultaneously working with local health entities to build their cultural and linguistic capacity. She designed, implemented and now manages the Bridges to Health lay health promoter program in Northern Vermont. Additionally, Naomi co-directs Huertas, a food access project for immigrant farmworkers, with Dr. Teresa Mares of the Department of Anthropology at UVM. Previously, Naomi provided health care access support and coordinated outreach health services in Northwestern Vermont in collaboration with a local FQHC.  At that time, she was also the Project Coordinator for a labor management project at UVM Extension that provided training and communication support to dairy producers, managers, and their Spanish speaking employees.
     Naomi graduated with a MS in Community Development and Applied Economics from the University of Vermont and a BS in Social Work from Skidmore College. She has 12 years of experience supporting under-served populations on issues of health, education, language, and life skills. She is fluent in Spanish and lived for four years in Central America; two of which were as a health and sanitation volunteer with the Peace Corps in El Salvador.  Naomi grew up and currently works part-time on her parent's dairy farm.
     Dr. Teresa Mares is an associate professor of Anthropology at the University of Vermont. She received her Ph.D. in Cultural Anthropology from the University of Washington in 2010. Her research focuses on the intersection of food and migration studies, and she is particularly interested in the ways that the diets and foodways of Latino/a immigrants change as a result of migration. She is currently engaged in an ethnographic study examining border politics and food access issues among Latino/a dairy workers in Vermont, and has recently written a book on this topic, entitled "Life on the Other Border: Farmworkers and Food Justice in Vermont," under contract with University of California Press. Some of her recent publications include "Navigating Gendered Labor and Local Food: A Tale of Working Mothers in Vermont," forthcoming in Food and Foodways, and a co-authored chapter entitled "Eating Far From Home:  Latino/a Workers and Food Access in Rural Vermont, to be published in Food Across Borders: Production, Consumption, and Boundary Crossing in North America.
     Outside of the classroom, Teresa has been active in leading a number of community food projects. She is currently the co-director of Huertas alongside Naomi Wolcott-MacCausland, and was the co-director of the Food Justice Project for the Community Alliance for Global Justice in Seattle, Washington for several years. She has served on grant and fellowship review panels for the American Association of University Women and for the Community Food Projects program at the National Institute of Food and Agriculture. She is devoted to experiential, transformative modes of teaching, and has advised dozens of students who seek to make a difference in the contemporary food system.